Gratitude in the Workplace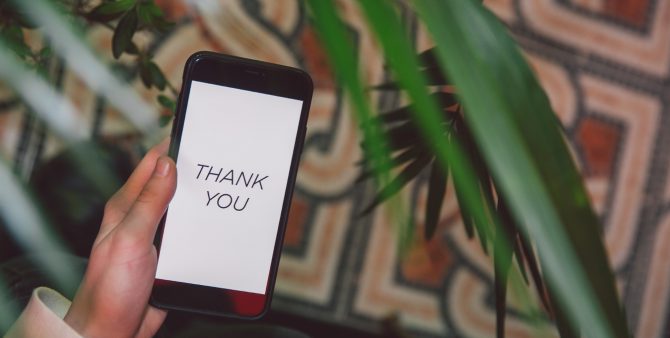 Although the first Thanksgiving took place in October 1621, it wasn't declared a federal holiday until more than 200 years later. In 1863, President Abraham Lincoln proclaimed it the official day of thanks in an effort to raise spirits and camaraderie during the tough days of the American Civil War.
It turns out he was on to something. Research has proven that showing gratitude actually makes us happier.
Gratitude means acknowledging the good things in our lives, which helps us focus on the positive. This in turn can trigger a domino effect that leads to a myriad of health and emotional benefits, including:
Reduced risk of depression
23% lower levels of cortisol (the stress hormone
Healthier diet (lower dietary fat intake)
Lower blood pressure
(Source: UC Davis Medical Center)
Giving Thanks in Tough Times
What about this year? With the multiple challenges presented by 2020, many are struggling to find much to be thankful for. However, an effort to single out the silver linings is worth the effort, mentally and physically:
Gratitude practice is not only important for making you feel better psychologically during this crisis, it can also help your physical health in response to respiratory infection and in general. (Psychology Today)
Further, the circumstances surrounding the pandemic may actually give you a newfound appreciation for the things you may have taken for granted. According to Psychology Today "Crisis reminds us why it is important to celebrate every day and share our love with family, neighbors, and friends. Crisis reminds us of how lucky we are and how important it is to take care of ourselves, our communities, and our planet."
Think Big – and Small
Expressing gratitude to our family and friends is the first step. Then think about the countless medical professionals and other essential workers whose efforts are helping everyone in the world through extraordinary times.
If you're having a tough time mustering up any gratitude at all, think on a smaller scale: "Just take note of all the things that make you smile throughout the day, even if it's for a fleeing second. It's okay if that thing doesn't make you smile again tomorrow, or even in an hour. But, at this very moment, what makes you happy?" (Talkspace). It could be the flowers outside your front door, your favorite television show, a really good cup of coffee, or just sleeping in on the weekend. What you're grateful for might be different than anyone else, but the point is to focus on the positive.
Expressing Gratitude at Work
Many of us spend eight or more hours a day at work, so expressing gratitude in the workplace can be an integral part of a positive mindset.
Some have a complicated relationship with workplace gratitude. In a Templeton survey, 35% of respondents said they believed expressing any gratitude at work could lead to coworkers taking advantage of them. Despite this fear, however, research suggests that workplace gratitude actually has the opposite effect—it can motivate people to work harder.
Researchers at the Wharton School found fund-raisers made 50% more calls during the week after getting a pep talk where they were thanked for their efforts.
So how do you show gratitude at work?
Thanking the Boss
Managers, supervisors, and team leaders often take on many tasks and responsibilities that go unacknowledged. Taking the time to say you appreciate their support and efforts goes a long way in creating a positive workplace atmosphere—for both you and your boss.
Rally your teammates and have everyone write a brief thank you message. If a traditional card isn't logistically possible this year, go electronic with a group email or online card. This isn't just a great way to express gratitude during Thanksgiving, it's also a great practice for when the team wraps up a big project or achieves a major milestone.
At your next team teleconference, surprise your boss with a brief thank-you roundtable. Everyone can take a turn sharing what they appreciate most about your boss, or even tell a story about a time when they helped you professionally or personally.
Pitch in for a treat. Have the whole team contribute toward delivery of your boss's favorite lunch, snack or coffee. A sincere thank you with a small token of appreciation is sometimes all you need
Thanking your Teammates
Thanking your teammates plays a big role in fostering healthy relationships that facilitate collaboration.
Arrange for delivery of a coworker's favorite snack or coffee. Some teams do this as a way to celebrate birthdays or company anniversaries when they can't be physically together to mark important milestones. Take a few minutes during your team meeting for catch-up on fun topics like personal news or the best shows on Netflix.
Make time for acknowledgement. Acknowledge everyone's efforts during team meetings. Just imagine how great it would feel if a coworker thanked you in front of everyone for covering while they were on vacation or helping them out with a tedious task. You can even carve out special time once a week to "shout out" thanks for the individuals who went above and beyond to help the team.
However you show gratitude, deliver it with sincerity and authenticity. A timely thank-you helps us feel acknowledged and appreciated. And your efforts can help start a gratefulness revolution! Giving thanks creates a chain reaction that inspires us all to appreciate the positive in our lives.